Work on developing the APS – 530S – IP100H packaging line began in response to the fact that, during the COVID crisis, there was an increase in demand for the cooling of foodstuffs, pharmaceuticals, biological materials, etc., during transportation and warehousing.
The aim of this project was to find a suitable, compact, customer-friendly solution for the packaging of dry ice in plastic bags, with emphasis placed on hygiene and the consistent quality of the dry ice even after packaging.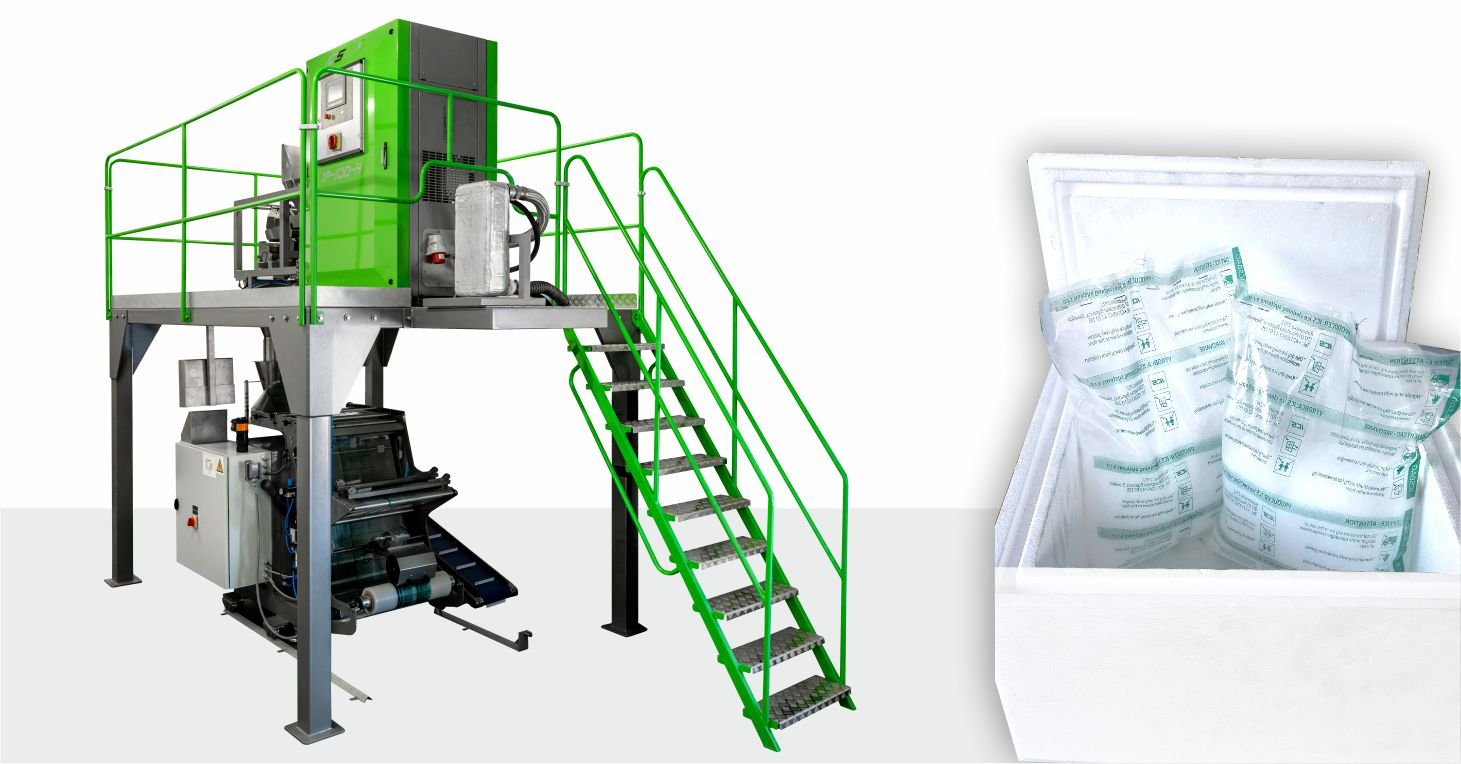 "When we were working on the design, we explored several different avenues but, after weighing everything up, we settled on a direct link between production and packaging. We chose to integrate our IP-100-H pelletiser into the automatic packaging machine. We approached several companies across Europe to develop and supply the packaging part. After mutual negotiations, we opted to work with RADPAK Fabryka Maszyn Pakujących Sp. z o.o. in Poland, as they were willing to build, test and fine-tune a machine capable of packaging a material as challenging as dry ice. " (M.Očkajová, ICS)
The decision by ICS' managers to invest in the development of this type of equipment has resulted in a fully automatic packaging line measuring 5,800 x 2,400 x 3,600mm and capable of producing and packaging 120 kg per hour. The line can make and package 3, 10 and 16 mm dry ice pellets. The packaged bag is 250 mm wide and weighs no more than 1,000 grams, which is ideal for most packaged products.To control and operate the device, we use a PLC and colour HMI display with clear visualization that is simple to use. All parts of the device that come into contact with the dry ice are made of stainless steel.
The "product suitable for food contact" certified packaging material we use for the dry ice has all the properties required for long-term storage at -79 °C. By developing this packaging equipment, we have expanded our portfolio to include a new product line and we are now able to package the dry ice we produce according to our customers' needs.
The standard APS – 530S – IP100H can be customised to the customer's requirements, opening up a new field of questions and answers for our development team.
Video: www.facebook.com/TheCoolestWayToClean/videos/767958385013592